This week I heard about a library sale in a nearby city. I'd heard that children's books were $.25 each, which is what prompted me to go to the sale. Sadly, that information was wrong! Which was okay because I didn't find but one children's book. Not sure if I love library sales for children's books. The kids books seem so torn up, doesn't seem worth it. None-the-less, here's what I got at the library sale:
Children's Books:
Big Bird's Guessing Game About Shapes - this is a board book in pretty good condition, not bad for $.50.
Hardback:
Harry Potter and the Chamber of Secrets (Year 2) - this was such a nice copy, I got it for $1, and so now I have to find Year 1 and start reading them.
Paperback:
Prayers for Sale by Sandra Dallas - have read this from the library, loved it, so I picked it up for a couple bucks.
The Story of Edgar Sawtelle by David Wroblewski - I know nothing about this book except for seeing a copy of it around, looked in good shape so I picked it up.
Then I picked up three books by Sarah Dessen, my daughter's favorite author, Lock and Key, The Truth about Forever, and Someone Like You. You're welcome, daughter!
The bunch was a tad pricey at $13, but they're all books I like or will at least read, so it's worth it.
Now onto Goodwill half price day today. Here's the low-down:
I still have to learn more about taking pictures of my books (i.e. bright light on the top book), but here we go anyway.
Richard Scarry's Best Word Book Ever - a cool book with lots of pictures and words. (Later, I started looking through my Little Golden Books and found that I have a Little Golden Book of the Best Word Book Ever, but it's called Best Little Word Book Ever.
Tell Me Again About the Night I Was Born by Jamie Lee Curtis, illustrated by Laura Cornell - I have a couple other books by Jamie Lee Curtis, she writes pretty well for kids. I loved those books so I picked this one up today.
Who's Home? An Animal Lift-the-Flap Book by Neecy Twinem. This is not a board book, but it is a life-the-flap book and my son loves those. He'll enjoy this one when he's older.
Little Golden Books - Tootle, My First Counting Book, The Poky Little Puppy, Little Golden Picture Dictionary, The Color Kittens (this is an older version than the one circulating now, from 1994.), The Three Little Pigs (this one is old, from 1973, in relatively good condition), and Barney The Best Christmas Eve. My son loves Barney, hence this purchase. I don't think any Barney books or any paraphernalia will ever become collector's items, do you?
And, last but not least, I found Laura Bush's personal memoir, Spoken from the Heart, a hardcover in relatively good condition.
Less than $8 for all of this, not a bad shopping trip! What have you found this week? Linking up to
Flea Market Finds
,
Thrift Share Monday
, and
The Penny Worthy Project
.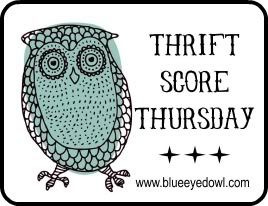 Happy Easter! Enjoy your day and your latest book!